PRESENTATION
Accademia Romana Kendo commits, through the study of sword's (katana) techniques, to create a community made by passionate of every age, which recognise themselves in the values of humility, sacrifice and respect for the others, also and especially, of the opponents.
The experience of Kendo is a stimulating travel, with hurdles and trials to overcome with diligence and dedication, in order to obtain improvements and satisfactions, in the long path to become better individuals, also in everyday life.
Accademia Romana Kendo:
Master and Honorary President: Masashi Chiba
President: Carlo Baldassari
Vice-President and Treasurer: Mauro Battaglioni
Counsellors: Enrico Banchetti, Maurizio Ricci, Giuseppe Lombardo
Coach (Technical Director): Enrico Banchetti
Manager Agonistic Sector: Maurizio Ricci
Team Manager: Francesco Capone
Secretary: Enrico Rinaldi
Certificate of Incorporation and Statute:
file PDF [3.9 MB]
Associazione Sportiva Dilettantistica Accademia Romana Kendo
Fiscal Code: 97551990589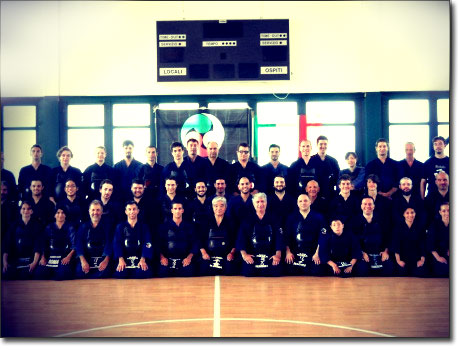 In the picture above: Accademia Romana Kendo in the grand room of the Dojo during Master Chiba's stage..

Queste pagine sono la versione inglese del sito dell'ARK Roma [
vai»
]
Trial Trainings
The first three trainings for all the beginners are to be considered for trials and completely free of charge: CONTACT US
before coming for training.